Create Your Greeting Thank You Note Cards
Writing Your Thank You Greeting Cards Made Easy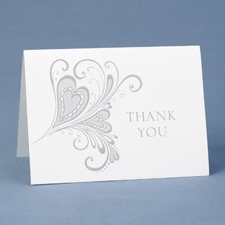 All of us know it's just good manners to send thank you greetings but few of us ever follow our instincts and get those printed thank you note cards in the mail as we should. That's a shame because sending them can have many benefits, including a good feeling for doing the right thing. Of course, knowing what to say can often be a big challenging, which is why we at CardsShoppe.com offer a few suggestions and samples to help you along the way.
Sample Thank You Greetings Wording Ideas
The key to showing your appreciation in a card is writing to be sincere, specific, and personal. Here's an example of this:
John and I want to say thank you so much for the wonderful mixer you purchased for us. We both love using it for cooking and it looks beautiful on our counter. Hopefully, you can join us for dinner some evening and we can use it to prepare you a wonderful meal.
Basically, this example should also include a personal salutation, such as "Dear Sarah and Brad" if you know them well or "Mr. and Mrs. Kirkwood" if they are friends of the parents or the family that you are not as well acquainted with. Additionally, you should close with a personal touch as well. "With much appreciation" or "With love" would be nice choices. Avoid using any type of closing that has been overused, such as "Sincerely."
While this example illustrated how to thank someone for a gift, you might have some people give you cash or a gift card. If you have this type gift, here's some wordings to consider:
Thanks so much for giving me the iTunes gift card for my birthday. You obviously know how much I love music and my iPod. I've already been downloading music like crazy! Next time you visit, I'll let you listen to some of my new music.
With this type of message, you want to express your appreciation for the gift but also show that you are finding it useful already.
Pointers for Photo Thank You Cards
Besides the message, you should also keep a few other things in mind. For example, you should always try to send your thank yous within two weeks of the event or of receiving the gift. Waiting longer is not only bad etiquette but usually means you'll continue to procrastinate and might never get them in the mail.
Also, we have the most popular thank you party cards for all kinds of party situations and occasions, ranging from graduation, anniversary, bridal showers, birthdays, thank you greetings.
So, if you are having a birthday party, wedding, baby or bridal shower or graduation be sure to stock up so that you'll have your stationery available when you need them. Finally, it's usually acceptable to ask for assistance from others in addressing the envelopes - the toughest part of the job.
Learn more about thank you greetings for various ways to show your gratitude and appreciation.