Lots of Thank You Business Cards for Company, Corporate, and Business
Find Professional Business Thank You Card Wordings Ideas and Samples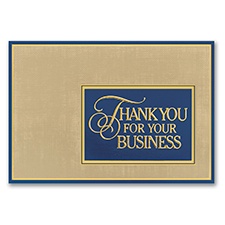 While it is true that in many instances, business thank you card wordings should have printed words, there are some occasions when thank you business cards that are written out by hand are a better idea. At CardsShoppe.com, you can get blank business company thank you card stationery for every situation. Since it takes more time to write out the words than to simply sign a card and send it, a lot of entrepreneurs, business owners, and executives actually prefer to hand write them to express their gratitude. These note cards are also great for interviewees who want to illustrate their professional image and personal values too. We invite you to use our helpful business thank you card wordings that follow.
We truly appreciate your business, and are grateful
for the trust you've placed in us.
Please don't hesitate to call me if ever a situation
where you think we can help. We hope you will
remember us in the future.
We would like to welcome
you as a new client to our Club.
As a new member if you have
any questions or concern,
please feel free to address
them with one of our staff members.

Thank you from the City Club
Thank you for attending our
Company's Open House
It was a great success and
Your presence added to that
Thanks again
We would like to thank you for
your interest in our company's seminar
scheduled for July 28th
We will be sending more details
once they are finalized
Again, thanks interest and participation
We know how busy you are
but we want to take this opportunity to
let you know just how much we appreciate
YOUR business

We look forward to assisting you
many times in the future
We would like to thank you for
helping make this last year
our Best Year Ever
We couldn't have and wouldn't have
done it without
Thank you again and we look forward
to an even better year this coming year
Thanks,
Mid South Mortgage met it's quota this month
for the 16th time in 16 months
This hard work and dedication deserves attention
The corporate of Mid South Mortgage
would like to thank each and everyone of you
for your hard work, loyalty and dedication
The Ellis and Ryan Law Firm
would like to thank you for allowing us
to provide assistance with your legal needs.
Please cal us again if the need ever arises.
Thank you again for your business
We would like to thank you for
helping making our Grand Opening a success
We are looking forward to an exciting new year
full of opportunities for both of us
Thank you for an enjoyable business relationship
Southern Financial Services would like to
thank you for your business

We invite you to bring this note in
to your local office and receive a
free gift for opening a new account

Thanks again, and we look forward to serving you
Creative Wording for Busienss Thank Yous
In most businesses, there are occasions when you want to thank a vendor for going above and beyond the call of duty to supply you with quality goods for your business. And, there are occasions when you want to thank your hard working secretary. For occasions like these and more, you'll want to have lots of thank you corporate cards at the ready position for preparing and sending immediately. For these reasons, we at CardsShoppe.com, offer numerous types of note cards for situations like these. Keep them stored in a desk drawer so you are always ready to say thanks to someone for all the hard work that they do!
Personalizing Your Printed Note Card Messages
Although you might be tempted to invest in a bulk assortment of blank thank you notes to save money, you'll likely regret the decision very quickly. Filling out all of these cards by hand not only takes a great deal of time, but is also painful and full of hand cramps. Instead, you might consider purchasing company thank you cards that can be personalized as you order with your own thank you company card wording typed in the inside. This will save you lots of time. However, you will still want to sign each of the thank yous individually and possible even add a small note, maybe just a couple of words, on each. These printed note cards are likely to be appreciated more and will seem more sincere.
Being Mindful of Your Wordings Sayings Verses Tone
Because there are different reasons to send company thank you note, there are also different tones that are appropriate for them. This is yet another reason why buying bulk cards doesn't work so well. For example, you might need to send cards thanking people for sending flowers to the funeral of a valued employee or you could be sending a hand written business thank you because of an important business referral. As you can quickly see, the same thank you notes wouldn't be appropriate for both of these options. Remember to choose the cards for business thank yous for each purpose carefully, including the wordings you use. You can find lots of free examples of thank you card wording or sample business thankyou cards at CardsShoppe. These can help you prepare your cards in the best way possible.
Add your own company business thank you card wordings to the stationery you buy or use the sample wording on each of the sample cards.