etiquette guidelines suggest that thank you cards for baby announcements should be written and mailed with 14 days
Printed Birth Announcements Thank You Cards for Expressing Your Appreciation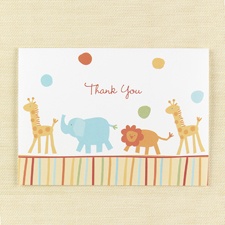 Once you've welcome your new baby into your home, the next step is to express your appreciation for all the kindness you received from your friends and family members who brought gifts or showed their support in other ways. For them, you should begin sending out custom birth announcements thank you cards. And, for those who need just a bit, or lots of help, you can rely on our large database of than you wording ideas and samples for new baby thank you cards.
Birth Announcements & Thank You Cards Considerations
First, you should always remember that simply sending out a unique baby announcement doesn't require everyone who receives one to purchase a gift. However, many recipients will do just that. And, this is why you'll want to plan ahead and purchase baby thank you cards at the same time. After all, it's a great time to ensure your thank yous complement you announcing cards. For example, if you purchase birth baby announcements decorated with rocking horses, you'll want to find thank you baby notes with the same design.
Thank You Birth Announcements Card Wordings
Are you are preparing to mail the thank yous, you'll want to keep in mind some of the etiquette guidelines. It's never a good idea to wait longer than 14 days to get your thank you notes in the mail. Any further delays could send a negative message to gift givers. You should also add a message to any note cards you send. The message can be a simple expression of your appreciation with an invitation to visit the baby soon. Some ideas might include the following: "Morgan adores the blanket you purchased. She sleeps with it every night. We hope you can visit her in person soon" or "Little Henry loves the teddy bear you purchased. He won't fall asleep without it in his crib. I know he can't wait to meet you."
The best time to shop for your discounted birth announcements thank you cards is when you are buying your baby announcing cards.