your religious invites should be unique and special, not just more of the same old recycled designs found on most sites
Embellish Your Religious Invitations for Baptism, Mitzvah, Christening, Communion, and More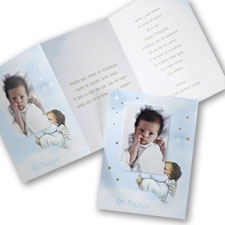 Custom religious invitations are stationery selections that are suitable for an array of spiritually related events. Not only are printable religious announcements great for Baptisms and Christenings, Bar Mitzvah, Bat Mitzvah, and Hanukkah, and Communion, Confirmation, and Dedication, but they are also ideal for announcing to family and friends about religious speaking events, special memorials, prayer vigils, and church related events. Perhaps you want to send your religion invitation to members of the community to assist them in recruiting new church members. For these reasons and more, we at CardsShoppe.com offer distinct religious announcing cards with an array of unique, sacred symbolism. And, our extensive and unique religious invitation wordings sayings verses samples will help you totally personalize your religion stationary.

Select Your Religious Invitation Announcement Stationery Cards
Creating Special Religious Ceremony and Party Invitation Cards
Religion Invites for Every Faith - Regardless of your faith, you can get invitation cards for faith-oriented events. You can shop online and view our vast collection of invitations you might need for any religion event. We customize invitation stationery as well, so you can have them made to order. You have the option of adding photos of gorgeous, spiritually focused graphics too, so your invites will prove extraordinary to look at because they host a one-of-a-kind design. And, after adding your on personalized message, using our patented process, you can instantly preview to ensure your custom cards look exactly as you want!
Additional Unique Religious Announcements Uses - You can purchase impressive announcement cards with symbols for the Jewish faith as well. You can get Bat Mitzvah or Bar Mitzvah invites with torahs, dreidels, scrolls or with the Star of David ornamentations. Want to invite guests to attend a Bris? You can have appropriate Jewish faith-related icons added to your printed cardstock. Alternatively, perhaps you are planning to host an Islamic-oriented Iftar meal during Ramadan and following Maghrib? You can add images of Iftar-related cuisine or Islamic artwork to your stationery selections. We even help keep your cost down by offering 10 free cards and free shipping.
Whatever discount religious invitations you need, you can be confident of finding them aligned with your spiritual beliefs right here at CardsShoppe.