Customize Your Note Card Stationary for Professional and Personal Uses
Show Your Appreciation with Our Most Unique Stationery Note Cards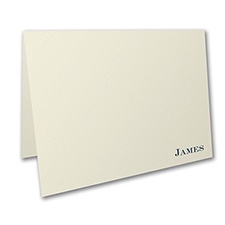 Send a personalized note card to express you thanks for someone's presence at your special event, a gift given, or just a thoughtful act is always a good idea. After all, just some simple personalized note cards is a ideal way to show your appreciation and ensure they know of your gratitude. And, at CardsShoppe.com, we offer features in which you can add your photo, business logo, or other items as you are creating your very own design with your stationery thank you note card. Your custom work is guaranteed to create a personal and professional persona for the recipients to appreciate, trust, and admire. Personalized stationery of note cards expresses gratitude and thanks in a way that few other printed product can do. After all, people appreciate that bit of extra effort you took in creating and sending the custom notes.
Customized Note cards for Personal and Professional Uses
Creating full color custom note cards is much easier thanks to our patented personalize and real time features. Start by choosing any one of our exclusive thank you note card designs that is ideal for your purpose, and then add your own wordings, fonts, type style, and ink color. Then, when you have all the features just as you want, click 'Preview' and see your work. You can even upload a business logo design or personal photo images with our user-friendly upload feature. In no-time-at-all, you can have a personal stationery card ready-to-send to all your family, friends, and clients. Regardless of whether you are making these for your business, or for personal uses, we offer a higher resolution note card stationary that is printed on premium paper with brighter inks. Your full-color personal note card won't fail to impress.