take advantage of our promotions and instant preview features with your customized invitations announcements cards, free
Select Invitation Design, Add Personalized Features, and Then Instantly Preview Promotion
We are proud to announce the creation and implementation of our own patented 'personalize and instant preview' features available exclusively to you, our customer. These advanced features enable you to choose the particular invitation, announcement, or other stationery card design that is just right for your occasion, add lots of embellishments, and then preview your work in real time. There are basically, two parts to this process after you have selected the design you want: (1) add your own embellishing features such as wordings, fonts, typestyle, and ink color; and (2) instantly preview your work after it has been inserted into the image you choose. Here's a bit more about each of these two processes and how it will save you oh so much time and anxiety, and be outright enjoyable.
Select Just the Right Invitation Announcement Card Design
When you need a really unique and special invitation, announcement, or other type stationery card, your best bet is start your search on our home page where we have the most significant occasions grouped by type for your shopping ease. For instance, if you are looking for Baptism ceremony invitations, you will find these under Religious; for moving announcements, under Moving; and so on. After reaching the type stationery cards you are looking for, take your time and browse our gigantic collection of the most creative, unique, stylish, and trendy invitation announcement designs found anywhere, either online or at your local retail store. Once you have found the perfect image, then you are ready to add your embellishments.
Personalizing Your Stationary Cards with Wordings and Other Options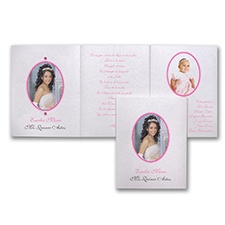 As you begin adding your custom features, you'll want to start with just the right words. If you, like most people, are a bit unsure what to include and how to write you, you might want to visit our large database of wording ideas, sayings, and verses for the particular occasion you are looking for. You may use the samples in part, in their entirety, word for word, or just as inspiration. After including the words you want, then you may choose the typestyle, fonts, and ink color to ensure your stationery cards are exactly like you want. As an added feature, you can even upload a photo or picture to be added when your proof is submitted to you. Please note, that your picture or photo will NOT be visible in your preview.
Previewing Your Work in Real Time
After you have chosen the most ideal design image, added your own personal words, and top it off with the most appropriate fonts, typestyle, and ink color, it's time to see the results of all your efforts. This is easily done by simply clicking on the 'preview' option located next to your personalizing options. By clicking PREVIEW, your words with selected features are magically placed in the design image your chose, replacing those sample words that were there. Since this is your first 'look', you can change any and all aspects of your previous work, and then click Preview again, to see how your adjustments look. This process can be repeated unlimited times until you have all the embellishment features exactly like you want them.
Personalize and Preview Gives Sample View
Although our patented customize and real time preview options are designed to ensure you know exactly what you are getting before paying, there are some aspects that it does not do, like varying the text size, color, and a few other features. For special request, such as bolding the name, enlarging a word or group of words, reducing the RSVP, and so on, we have added an area where you can type in any special request entitled, "Additional Comments". Any and all comments or questions you add here will be addressed in your proof.
When and How Your Proof is Prepared and Sent
After your order is completed, our professional graphic designers will set up and send you a proof within ONE hour during working hours via a link from our proof website, www.proofpreview.com so please ensure that his website email is not blocked. When you receive your proof, please review it to ensure it is exactly like you want, and that all the dates, names, numbers, and other details are correct. If you want changes made, you may reply to the email and include those change request(s). And, within one hour you will get a revised proof incorporating the changes you ask for. If no changes are needed, then kindly reply with your approval, so that your order can be printed and shipped the same day, if approval is given by 2:00 p.m. central time.
Invitations Announcements Cards