it is becoming quite popular to combine your holiday birth announcements with your greeting cards in one mailing
Unique Holiday Birth Announcements for Christmas, Halloween, Mardi Gras and More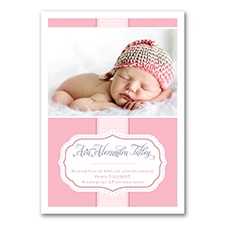 Holidays, any holiday, are always a fun time, but it can be even more joyful when you are able to share the birth of your new baby with family and friends. After all, you've received the greatest holiday gift of all, a brand new baby boy or girl, so you will definitely want to inform everyone of this wonderful holiday gift with our beautiful holiday baby birth announcements cards for any holiday, including Christmas, Halloween, Mardi Gras, Easter, and so on. Since everyone is usually quite busy during the holidays, it is becoming more popular to combine your holiday birth announcements with your greeting cards in one mailing? Our gallery of creative and colorful announcement images include a variety of vibrant designs and the customary Christmas and holiday images. Each design has its own sample wordings, but we offer lots more birth baby announcement wording samples, some of which follows.
Santa brought us a little baby this year
When we saw her our eyes filled with joyous tears
She's the light of our lives, the joy in our hearts
You'll have to come see our new little sweetheart!
We got in the mood early this year
to celebrate this Holiday Season
We have a New Baby!
This was the extra special reason
God has given us extra blessing this
Christmas Season
with the birth of
As most people gathered
to celebrate the Season
We weren't there,
but there was a good reason…

Our Holiday Baby was born
We have been blessed
with a sweet little baby angel…
This is an extra special reason
to get together and come meet
our new baby this joyous season!
It's the Holiday Season
throughout the world
We're thrilled to introduce
our new baby girl
Our sweet little angel has arrived
in time for Christmas this year
She brings such good tidings
and lots the good cheer
She has lots of love to share
Oh what joy a daughter has to bear
She came in the perfect time of year
when family and friends get together
and hold each other so dear
She has 10 little fingers and ten little toes
and the cutest little button nose
It was cold this year when she arrived
It made the Holidays extra special
when it flew by
Someone special, someone dear
Someone new to love is hear
It's the perfect time of year
with family and friends
We'd like for the Holidays
to never end
The nursery has been packed
with blankets and lot of toys
All that it lacked
was our sweet bundle of joy
This Christmas was so sweet
our precious baby is here
for everyone to meet
We've welcomed our
Holiday Baby
We'll choose her decorations
until she is a sweet young lady
Your family and friends will be so happy to see the latest addition to your family and appreciate the combined greeting stationery card and baby announcement. And, when you include your own special unique announcement wordings for announcing your birth, you've got a great combination.