most amazing promotion of free invitation announcement cards for any type special occasion you plan
Enjoy Special Promo of Free Exclusive Invitation Announcement Cards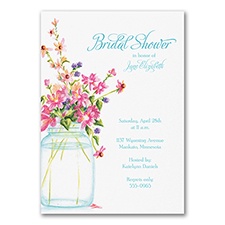 As a valued CardsShoppe.com customer, we realize you are always looking for the best bargains possible as you search for your personalized stationery cards. It is because of this, and many more reasons, that we offer the most exclusive, stylish, trendy, and popular invitation announcement card designs with gigantic discounts and money-saving promotions found throughout our website.
Our current promotion for FREE invites and announcing cards, subject to be discontinued at any time, allows you to add 10 of the same invitation announcement cards with the same customization features to your order without an additional card costs. However, we do ask that you purchase a minimum quantity of 50 cards and you pay for the 10 envelopes and any other special features such envelop imprinting and adding a photo to participate in this great promotion. So, here are the details of participating in the 10 Free Cards promotions on our Exclusive Stationery**:
after adding a minimum of 50 or more Exclusive Cards to your shopping cart, you may

click the option to ADD 10 FREE Cards to your cart, and presto, you now have 10 more cards without any cost

we ask that your 10 free cards be of the same wording, image, and card number

envelope costs, and other special charges like envelope imprinting and photo charges will be added
Based on the quantity you purchase, this can amount to a GIGANTIC 40% SAVINGS!
Here is a quick example of how it works, assuming your added 100 exclusive cards to your shopping cart:
After completing your personalizing, add the quantity of cards you want to purchase, (again, we ask for a minimum of 50 cards), along with any accessories such as envelope imprinting, thank you cards, RSVP cards, if needed; then

Click ADD to CART at the bottom of the page

Your items and the quantity you selected will be added to your shopping cart

Look just below your card quantity and you will see an options, "ADD 10 FREE"

If you want to add your free cards, simply Click on that option, "ADD 10 FREE"

Your shopping cart page will then automatically update itself by adding the 10 free cards along with the same quantity of envelopes and any other additional items you might have added like thank you cards, rsvp cards or so on

If the adjusted quantity is what you want, proceed to the option at the bottom and click "Continue Check Out".
The following limitations and restrictions applies to this special promotion:
minimum quantity of 50 cards require

applies to Exclusive cards only, and NOT Premium cards

for a limited time only and subject to be modified and / or discontinued at any time without advance notice

applies only to exclusive cards on our website
And, while shopping, we invite you to take advantage of our other special promos like free shipping, same day printing and shipping, your proof within 1 hour, and lots more. Thanks for visiting with us at CardsShoppe.com. We hope it was an enjoyable and memorable shopping experience and would love to see you back with us soon.
Exclusive Cards** - All Exclusive Cards are identified with this special promotional price 'all low as .79¢' and also enjoy other advantages such as same day print and ship, free shipping, your proof within one hour, up to five free proofs, and lots more.
Invitations Announcements Cards